I'm aware that there are ROM hacks that loosely share a similar interest: to put the player in the shoes of Team Rocket. I am aware that ROM hacks with this basic premise exist.
But, there is nothing like what i have in mind.
So far, all i have are concepts and artwork and a basic story plotline. The ideas are fresh, imaginative and sure to make a fun ROM hack, but i'm not experienced with the actual game making part. I really need people who are good at putting game mechanics together. I'm a great graphics artist, but thats just part of what this baby needs.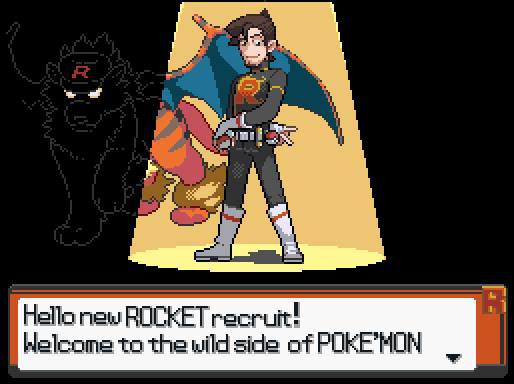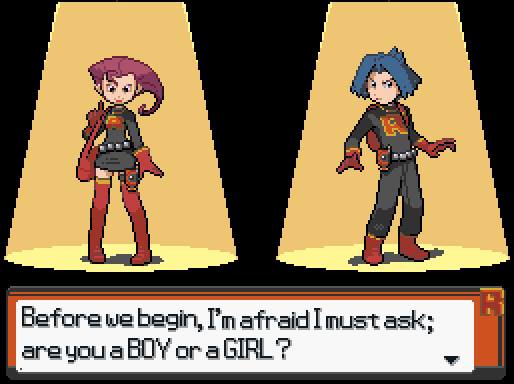 These images are distorted by jpg format to discourage any imitation.(not like i don't trust anyone here, but it never hurts to be cautious)
the concept art is brilliant. i'd love to see more art, even if you dont get around to making it into a playable game. i love that the male and female characters are based off of Jesse and James.
Barewl





Posts

: 5


Join date

: 2014-12-30


Age

: 28


Location

: North Carolina



I would
absolutely
play a ROM hack or game with this premise!

Your pixel art is great, I hope you find a way to make it into a real game!
Uranium uses
Pokemon Essentials for RPGMaker XP
, which is a fairly versatile system that comes with all the Pokemon mechanics and is a lot more flexible than a ROM hack. You don't need to know much code in order to use it, either, although making a game is a lot of work.
_________________
Creative Director of Pokémon Uranium |
Check out my blog!
Admin




Posts

: 738


Join date

: 2014-03-10


Age

: 25



Thanks you guys.

And yeah. a lot of work will have to go into this game in particular due to one of the main elements i plan on implementing. It would mean making many many "new" pokemon.

Pokemon splicing. Two pokemon go into a machine and make an egg that results in a mix of the two original pokemon. Limitations will be set... Compatibility would probably make a good puzzle feature and make the workload of creating combinations a little less insane. Still though, it'll be quite a job for one person...
I've always wanted to play a game that did Pokemon splices properly, it seems like it would be a cool and fresh mechanic and it would be fun finding all the combinations. That Arcanine/Charizard in your first image looks just SO cool

_________________
Creative Director of Pokémon Uranium |
Check out my blog!
Admin




Posts

: 738


Join date

: 2014-03-10


Age

: 25



The fearsome and loyal Charcanine! you should see its pre-evolution, Growlimander :3
This looks awesome

I had a similarish idea a little while back (sort of exploring the bad guys of the Pokemon universe, what they do and why they do it - with a side order of 'the tradition of the pokemon games/shows starring a painfully naive child amuses me, how much fun can I have with that?'). Not sure if I'm going to take it anywhere, but it's a fun thought experiment.
Barewl





Posts

: 8


Join date

: 2014-12-26


Location

: Wellington, NZ



Wow this looks really great....
If u actually pull is off ud be like famous haha its pretty amazing id definately play im actually helping alittle with another team rocket game but it has a nicer side so id have to play this the graphics are just wow u got a talent there haha. Like seriously gl with the idea!
Inflagetah





Posts

: 257


Join date

: 2014-03-14


Location

: Somewhere in the Kalos region




---
Permissions in this forum:
You
cannot
reply to topics in this forum