Since the other thread I made recently is for prerelease info, I thought I'd bring this topic to another... topic. Anyway, I thought it'd be interesting for those of us planning to get ORAS to discuss the kind of teams we'd be constructing in our return to Hoenn!

Naturally, I put spoilers in the topic title since some people may not want to know all the available Pokemon or Mega Evolutions available in these games. So if you're one of those people, now would probably be the point to stop reading. With that out of the way, let's talk teams!

Since I'll be getting both games, I'm busy thinking up teams for both. Right now my ideas are pretty basic, since we know so little about what Pokemon are available and what's getting new moves or Mega forms. I'm also trying to avoid Pokemon I've used in other normal game runs - minus the original Ruby and Sapphire, of course.

For OmegaRuby:
* Swampert - My favorite of the Hoenn starters. I usually use my favorite of the bunch in the "primary" game. Didn't get to use Megas in my all-Kalos XY teams, so Mega Swampert will be very exciting.
* Dusknoir - I don't often get to use Ghost-types. I didn't have strong feelings on either Duskull or Shuppet's lines in the originals, but Dusknoir was a fourth-gen mon I liked a lot, especially after the major character in the Mystery Dungeon games.
* Gallade - Possibly, at least. Depends on if he's available. If he is and gets a Mega, he's a shoe-in. I used a Gallade in my first-ever Nuzlocke (of Platinum) and the line has been a favorite since.
* (I need some kind of Flying-type... maybe Dodrio? If Tropius gets a Mega I'm all over that.)
* (Electric is one of my favorite types, so there will likely be at least one. Maybe Manectric?)
* ???

For AlphaSapphire:
* Sceptile - My starter in this game! I like the Hoenn starters in general, but Sceptile is pretty darn cool. His part-Dragon Mega is really great, and I like the idea of having a starter to beat the respective villainous teams in each game.
* Kingdra - I'm thinking of him, at least. Never used the Horsea line before, but after reading up on how powerful Sniper Kingdra has become in Gen 6 I just have to try it. With two Dragons I'll to watch out for Fairies, it seems...
* Camerupt - Well, at least I have the starter trio types covered. Plus it's a volcano Pokemon, how cool is that? Some people think Camerupt may get a Mega, and if so he'll be even more welcome on my team.
* Froslass - Possibly. Since Snorunt is Hoenn-native, I'm hoping for a similar case as Gallade above. And as mentioned, I would like to use more Ghost-types.
* (Some kind of Steel or Poison Pokemon... maybe Mawile? Mega Mawile seems pretty darn cool, at least. Depends on what's available.)
* ???


How about you guys? By no means do I ask that you be as detailed as I've been - I just like to ramble on about my Pokemon!
_________________
Official first person to raise and evolve a Seikamater the hard way. All hail to the queen, baby.
Check here for known Uranium 4.2 bugs before you post!
Also check out my Digimon Story Cyber Sleuth LP here!
Latest Update: The Grindy Update (posted 5/20)
Inflagetah





Posts

: 291


Join date

: 2014-03-13


Age

: 28



I love ur team its great i never use starters though
U will prob need a poison type and since they are making more megas i hope they'll make a poison. I'll get back to u with my new team in due time ive got a lot of planning!
Inflagetah





Posts

: 257


Join date

: 2014-03-14


Location

: Somewhere in the Kalos region



Well, I'm not really planning on competitive so it's OK if my team isn't perfectly balanced. And that's why I brought up Mawile - honestly, I think a Steel-type would fit in a bit better than Poison. I like having those resistances. Not to mention Fairy-types.

But hey, that's why I left spaces open, and a lot of these aren't solidified until we know more. Mostly just the first two are "for sures" right now.
_________________
Official first person to raise and evolve a Seikamater the hard way. All hail to the queen, baby.
Check here for known Uranium 4.2 bugs before you post!
Also check out my Digimon Story Cyber Sleuth LP here!
Latest Update: The Grindy Update (posted 5/20)
Inflagetah





Posts

: 291


Join date

: 2014-03-13


Age

: 28



Bumping this thread up, let's talk ORAS teams!
I didn't really plan out my team in advance, I just ended up going with the Pokemon I happened to be raising at the time. Although, I did make a deliberate choice to include Altaria and Armaldo since I wanted to use them both (including Mega Altaria).


Blaziken [F] "Renée" @ Blazikenite - My starter. I love the entire Torchic line and Blaziken is just such a badass, I have to pick it every time. Having a fire-type is great for type coverage, plus she gets Brave Bird which is devastatingly strong!

Mightyena [M] "Terrence" @ BlackGlasses - Actually the first poochyena you catch in the DexNav tutorial, he has an Adamant ability and the move Ice Fang. I Super Trained him in Attack so he's quite powerful despite low base stats.

Alakazam [M] "Alexander" - I was thrilled to catch an Abra in Dewford cave before it teleported away. This is my second time using Alakazam (after HeartGold version), he's always so strong and has a useful ability (Synchronize). I don't think I'll run a Mega for him, though -- my team already has 2 Megas.

Altaria [M] "Cirrus" @ Altariaite - I made a deliberate effort to go out and catch a Swablu so that I could have this awesome Mega dragon fairy on my team. His secret weapon is Hidden Power , which is the only electric type attack on my team... which at least gives me a method of dealing with those pesky Water types.

Azumarill [F] "Serafina" @ Leftovers - I'll let you guys in on a little secret: Azumarill is really freaking powerful. At first I caught her just to be an HM slave but pretty soon she proved her worth by wrecking the competition with Huge Power and Play Rough + Superpower. She has plenty of HP so she's somewhat of a damage sponge as well.

Armaldo [M] "Immanuel" - Armaldo may just be my new favorite Pokemon this gen. Raising him from an Anorith was quite difficult, as the Anorith I got from the fossil had an attack hindering nature -- but fortunately, she was female, so I bred her until I got Immanuel here, who has a neutral nature. Immanuel is about as slow as an iceberg but he hits hard with Stone Edge, especially if he gets a Hone Claws in first. Also, he looks freaking cool. I love Armaldo, wish he got a Mega Evolution -- think how awesome it would be!

Of course, due to the level curve of this game and the new Exp Share, my entire team ended up horrendously overleveled, making almost all battles laughably easy. That's why I started raising some "substitute" team members in order to create more team diversity, including:


Breloom [F] "Misha" @ Big Root - What even is Breloom anyway? Is it a kangaroo? Whatever the case may be, she provides me with some nice Grass-type coverage.

Metagross *SHINY* @ Metagrossite - The super cool shiny Beldum obtained from the wifi distribution. He's pretty dang cool.

Latios [M] "Excelsior" @ Latiosite - I used him for a little while but then stopped when I realized that using legendaries on your team is cheap (not to mention I already had a Dragon and Psychic type). He is still really cute though!

Sharpedo [F] "Predator" - HM Slave, I try to use her in battle but she always dies in one hit (because she's a Sharpedo). Sharpedoes are the best HM slaves, period. Try Surfing on one, it's awesome!

Nuzleaf [F] "Locke" - I still gotta evolve her! She was one of my old team members that took a side seat when her typing became redundant. Kind of an HM slave too, TBH... (she has Rock Smash and Secret Power)

I love this game.....
_________________
Creative Director of Pokémon Uranium |
Check out my blog!
Admin




Posts

: 738


Join date

: 2014-03-10


Age

: 25



I know I'm a bit late to the part, slept in a little too much. Anyway, here's my team for Alpha Sapphire.
-

(M) "Makar" - If you didn't all know I'm a HUGE fan of Legend of Zelda: Wind Waker. I got the Name from the Little Korok you save from forbidden woods.
-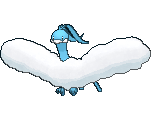 (F) "Nyru" - Another Zelda Reference; Nyru is the Goddess of Wisdom and Music, It took me awhile to choose the name for her, Her previous name in-fact was "Sky Requiem" but that doesn't quite roll off the tongue as easily.
-

(M) "Diorite" - This one was also a bit hard to make a name for, I couldn't think of anything clever so i did a quick Google search for hard stones and this is what came up. diorite has a Hardness of around 7-8 and seems to fit well with this guy.
-

(F) "Shantae" - I like Medicham... That's all I got...
-

(M) "Ol' Smokey" - This guy is a returnign member from my Original Sapphire play through, Torkoal in my eyes is the old Fire type that gets sadly ignored by most players. ironic really since his Defense is pretty high up there making him the Fire Type Equivalent to Slowbro. Even if you're more to defensive he gets both Iron Defense and Amnesia through early Level up, and if you didn't already have the TM he gets Flamethrower before level 40.
-

(F) "Aphrodite" - Getting Milotic Via Beuty Evolution on GBA: 72 hours. Getting in 3DS vertion: 5 minutes. The relief of finnaly being able to get Milotic easily without trading: Timeless. Save Time today with AS/OR.
_________________
My Team!
| | | | | | |
| --- | --- | --- | --- | --- | --- |
| | | | | | |
| Jara | Levias | Drilolasor | Belzeb | Krill Bill | Big Chill |
You gonna give me disrespect?:
Inflagetah





Posts

: 278


Join date

: 2014-04-09


Age

: 21


Location

: United States, Montana



Ill post my team soon currently playing Alpha. I have a camerupt on my team and my swampert is my tough contest star but is not officially on my team. Soon to have a Gallade as well and a walrein as my water type. I dont usually use starters on my team though
Inflagetah





Posts

: 257


Join date

: 2014-03-14


Location

: Somewhere in the Kalos region





Similar topics
---
Permissions in this forum:
You
cannot
reply to topics in this forum